Research article
Open Access
Difficulty distinguishing benign notochordal cell tumor from chordoma further suggests a link between them
Received: 6 March 2014
Accepted: 6 March 2014
Published: 22 April 2014
Abstract
Background
Much discussion about benign notochordal cell tissue in vertebrae has centered on the nature of its relationship, if any, to chordoma. Often referred to as benign notochordal cell tumors (BNCTs), these lesions have unique morphological features, however, differentiating between notochordal cells in discs, BNCT, and chordoma can be difficult. They are described as radiologically distinct from chordoma, with lysis, contrast enhancement, and a soft tissue mass indicating chordoma.
Methods
All chordomas diagnosed at our institution, the Istituto Ortopedico Rizzoli (Bologna, Italy), prior to 2008 were reviewed, yielding 174 cases. Five were limited to bone; one was a recurrent chordoma without original data available. The remaining four were re-evaluated in detail.
Results
There were three women and one man, aged 33–57 years (mean, 48 years). Two were BNCTs and two were mixed lesions containing BNCT and chordoma. On computed tomography, all were radiopaque with areas of lysis. One BNCT was heterogeneous on magnetic resonance imaging, enhancing after contrast. Microscopically, one BNCT had a well-defined cystic area with a sclerotic border. The other had a minute atypical area; it recurred as chordoma. The mixed lesions had areas of definitive BNCT, definitive chordoma, and atypical areas that did not meet the criteria for either. The atypical areas in all three cases 'blended' with areas of chordoma or BNCT.
Conclusion
These cases illustrate the ongoing challenges in differentiating between BNCT and chordoma. All had unique imaging features; three had atypical microscopic areas blending with BNCT or chordoma, strengthening the argument for a relationship between the two entities and supporting the idea that some BNCTs may progress to chordoma. Our study dispels the notion that any single radiologic criterion used to distinguish between chordoma and BNCT is reliable, opening the discussion as to whether or how to monitor BNCTs.
Keywords
Benign notochordal cell tumorChordomaComputed tomographyMagnetic resonance imaging
Background
Intraosseous benign-appearing notochordal tissue has been observed in isolated fetal and adult spines during the last century [1–3], but only in the last three decades has it been well-characterized and explored in greater detail. Contemporary work called on previous studies by pathologists, anatomists, and embryologists, raising myriad questions about the natural history of the notochord and the origin of all notochordal lesions. Important case reports and series questioned whether this intraosseous notochordal tissue represented true notochordal rests or de novo lesions, whether it was benign or malignant [4–10]. At each turn, terminology changed, from ecchordosis physalifora vertebralis, to giant notochordal rest, to the now widely-used benign notochordal cell tumor (BNCT) [4, 6, 8, 9]. Central to the discussion was the nature of the relationship, if any, between this benign-appearing tissue and chordoma. Several authors reported cases indicating an association between BNCT and chordoma [11–16] as others highlighted clear radiologic and histopathologic criteria for distinguishing between them [6–10, 16, 17].
Our objective was to identify BNCTs previously diagnosed as chordoma in order to better characterize their radiologic and pathologic characteristics and to better delineate any possible relationship between them. What we found demonstrates that the differences between BNCT and chordoma are not as simple as was once thought.
Methods
The work was approved by the Institutional review board of the Rizzoli Institute. We searched the database at our institution for all cases of chordoma diagnosed prior to 2008; after 2008 BNCT was a well-known entity to us and was considered as a separate diagnosis when appropriate. One hundred seventy-four chordomas were found. Of these, 169 had a soft-tissue mass. Five were limited to bone, one of which was a recurrent chordoma sent from an outside institution; detailed information regarding the original lesion was not available. The remaining four cases were re-evaluated in detail, including review of the charts, imaging, and pathology. As all cases were originally diagnosed as chordoma, each underwent vertebrectomy and the entire vertebra had been available for study. Many patients at this institution come by referral, retaining their original films and all but one of these patients were diagnosed before digital imaging was adopted; as a result, not all imaging performed was presently available.
Results
There were three women, one man, aged 33–57 years (mean 48) at time of diagnosis. Re-evaluation yielded the following diagnoses: two BNCTs and two lesions with areas of both BNCT and chordoma (Figures
1
,
2
,
3
and
4
).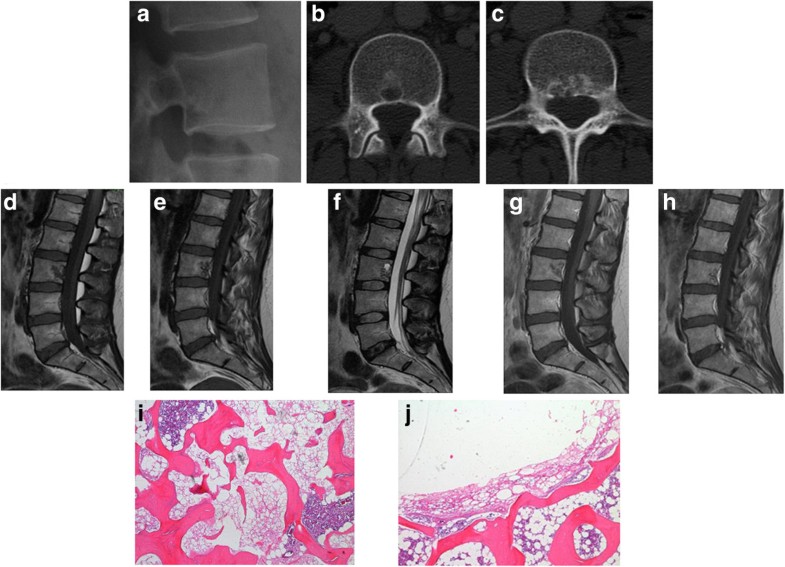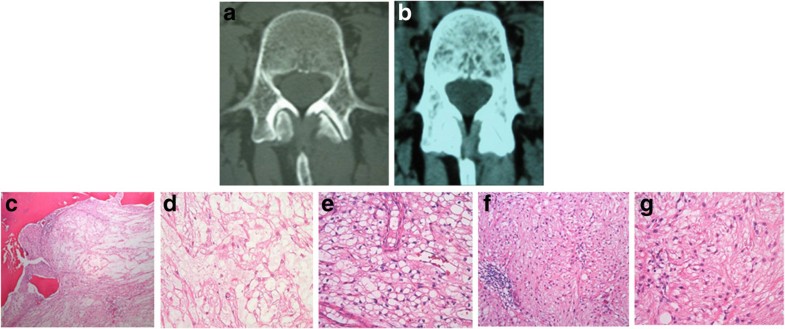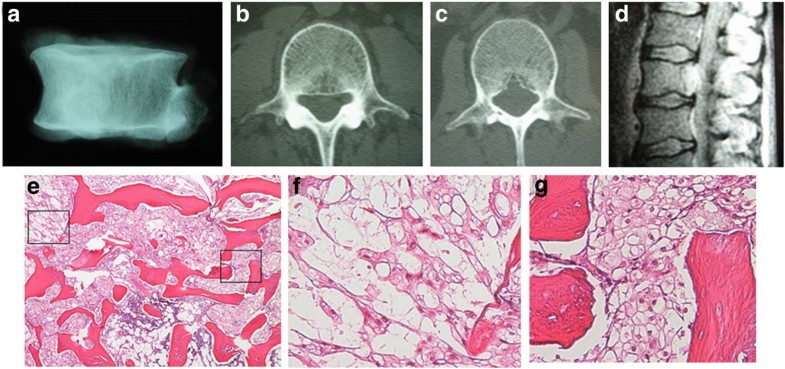 All four patients had lesions located in the posterior aspect of lumbar vertebrae. All lesions were mild-moderately radiodense (sclerotic) on computed tomography (CT) with varying patterns and amounts of lysis. Two patients (1 and 4) had radiographs available for evaluation; the lesions were mildly radiodense. Of the patients who had magnetic resonance imaging (MRI) available for evaluation, one was heterogeneous on both T1- and T2-weighted sequences and enhanced with contrast administration (Patient 1). Patient 4 only had T2-weighted images available for evaluation; the lesion demonstrated high signal. All patients had radiologic signs of intralesional fat.
All four cases had areas that definitively met the pathologic criteria for BNCT. Patient 1 had classic features of BNCT as well as a well-limited cystic area, the inside border of which had layers of cells consistent with the rest of the lesion. This cystic portion was well-defined with a sclerotic border and without microscopic evidence of bone resorption. The lesion for Patient 2 was composed entirely of classic BNCT except for a minute atypical area. The other two cases were composed of distinct areas that definitively met the criteria for BNCT and for chordoma, as well as atypical areas that did not meet the criteria for either chordoma or BNCT. For all three lesions, the atypical areas seemed to "blend" or "flow" to/from the areas of BNCT and chordoma. None of the cases had microscopic evidence of extraosseous lesion extension.
Discussion
Although intraosseous notochordal remnants have been recognized for over a century, interest was limited until recently. Focused studies as well as research in related topics such as degenerative disc disease have helped advance our collective knowledge of these lesions; [18–22] of utmost clinical importance is any relationship to chordoma. If all of these lesions naturally progress to chordoma or have the potential to transform into chordoma, they provide the opportunity to catch a malignancy at a very early, and small, stage.
Fundamental to any discussion of notochordal cell lesions is an understanding of notochord development. In humans, the notochord is a transient embryonic structure with critical structural and developmental roles [1, 3, 19]. After inducing vertebral column formation it disappears, leaving cellular remnants in the nucleus pulposus. There is later an apparent loss of notochordal cells such that they have rarely been reported beyond the first decade of life [2, 3, 18–22].
Notochordal remnants are occasionally found in fetal and adult vertebrae, with some suggesting this may be a more frequent occurrence than observations suggest [3, 4, 7, 17, 18, 20, 21]. It has been hypothesized that regression of the notochord may arrest at any point in development, leaving notochordal cells along its course that may then be subject to hyperplasia [1, 3, 8, 17].
Extraosseous masses of benign vacuolated physaliferous cells at the base of the skull were identified as notochordal remnants in the mid-nineteenth century. Designated "ecchordosis physalifora", they were considered proliferation of ectopic tissue due to aberrant notochordal development and/or regression [1, 3, 6, 8, 17]. Malignant lesions with a similar morphology came to be called "chordoma"; believed to be of the same origin, it is a rare, slow-growing tumor with a poor prognosis, selectively affecting the axial skeleton [8, 17, 23].
Reports of intraosseous notochordal tissue were scant until the first modern histopathologic reports opened a broader discussion [1–6, 8]. Initial questions focused on whether this tissue was a notochordal rest [4–6, 8]. Based on size alone, these lesions had clearly grown beyond embryologic proportions; sclerotic trabeculae and the described permeative nature further implied growth. Some questioned whether a vestige could grow, stating that proliferation implies neoplasia or malignancy [5, 6, 8]. However, notochordal cells in the disc have been observed to have proliferative potential and ecchordosis physalifora, widely deemed benign, has been called a "proliferative rest" [3, 8, 17, 21]. Moreover, it was argued that permeation is not a sine qua non for malignancy; that these lesions seemed to expand within the confines of the vertebrae without destruction while exhibiting permeative growth, some largely unchanged after years, supported the argument that they are benign [6, 8]. Others argued that these may be characteristics of pre-chordomas or the early stages of very slow-growing chordomas [5, 6, 8]. In ensuing years, Japanese colleagues made significant contributions; they proffered that BNCTs were not merely the intraosseous counterparts to notochordal vestiges in discs but benign, slow-growing lesions which develop after birth, capable of malignant transformation [7, 9–11].
Further questions regarding the origin and natural history of these lesions arose; did the notochordal cells migrate or herniate from the nucleus pulposus? Is it a lack of growth arrest as opposed to an initiation of growth? Is this true neoplasia or benign hyperplasia? As more cases came to light, various authors proposed radiologic and microscopic criteria to help distinguish BNCTs from chordoma [6–10, 16].
Conclusion
We present four cases that illustrate ongoing challenges in the diagnostic differentiation between BNCT and chordoma. All of the cases had unique features on imaging and three had atypical areas on histopathology. While we maintain that BNCT is itself a benign entity, the microscopic blending of these atypical areas with BNCT and/or chordoma strengthens the argument for a relationship between the two entities and supports the idea that some BNCT may progress to chordoma. Our study highlights the need for adequate imaging and sampling and close correlation between radiology and histopathology. It dispels the notion that any single radiologic criterion to distinguish between BNCT and chordoma is reliable and opens the discussion as to whether or how to monitor BNCTs.
Authors' Affiliations
(1)
Istituto Ortopedico Rizzoli, Bologna, Italy
(2)
Hopital Cochin, Paris, France
(3)
Dipartimento di Scienze Radiologiche, Università Cattolica del Sacro Cuore, Policlinico "A. Gemelli", Roma, Italy
(4)
Dipartimento di Medicina Specialistica, Diagnostica e Sperimentale, Bologna, Italy
Copyright
© Kreshak et al.; licensee BioMed Central Ltd. 2014
This article is published under license to BioMed Central Ltd. This is an Open Access article distributed under the terms of the Creative Commons Attribution License (http://creativecommons.org/licenses/by/4.0), which permits unrestricted use, distribution, and reproduction in any medium, provided the original work is properly credited. The Creative Commons Public Domain Dedication waiver (http://creativecommons.org/publicdomain/zero/1.0/) applies to the data made available in this article, unless otherwise stated.