MRI of endometrium cancer – how we do it
Received: 10 March 2016
Accepted: 27 March 2016
Published: 9 May 2016
Abstract
Endometrial cancer is the most common malignancy of the female pelvis. New concepts in endometrial cancer treatment emphasize the value of MRI as a major predictor of lymph node metastasis and tumour recurrence. MRI findings aid in triaging patients for a more tailored therapeutic regimen.
This review discusses the value of MRI in the preoperative assessment of endometrial cancer and provides a practical approach how to image and report endometrial cancer. Practical tips are provided how to increase the diagnostic accuracy in staging of endometrial cancer and how to avoid pitfalls.
Keywords
Endometrial cancerUterine neoplasmStaging uterine cancerMagnetic resonance imaging
Background
Endometrial carcinoma is the leading malignant tumour of the female genital tract in industrialized countries. Over the last decade the annual incidence has remained stable with an estimated 25.1 cases per 100. 000 women [1]. The vast majority of endometrial cancer is diagnosed at an early stage with atypical uterine bleeding in postmenopausal age. The 5-year overall survival is 81.7 %, but it varies broadly from 20 to 91 % for different tumour histologies and stages [2, 3]. For radiologists it is important to incorporate the histopathological subtypes I or II in their reporting. These subtypes differ not only with regard to histology and risk factors, but also in clinical features, including stage at presentation, risk of dissemination and in recurrence rate. Type I accounts for 80–85 % of endometrial cancers, it is estrogen-responsive and has a favorable prognosis [4]. Histologically it constitutes endometrioid adenocarcinomas grade I and II. Endometrial cancer type II is characterized by rapid tumour progression and a biological behavior often similar to ovarian cancer. Histologically it comprises endometroid cancer grade 3, and other rare histologies, e.g. serous cancers, clear cell cancers and carcinosarcoma/mixed Müllerian tumours [5]. Surgical staging with total abdominal hysterectomy and bilateral salpingo-oophorectomy has been the mainstay of therapy in endometrial cancer. Findings at staging also guide subsequent adjuvant treatment. There is ongoing controversy on the value of routine pelvic and para-aortic lymphadenectomy in early endometrial cancer surgery [5]. Recently a trend towards tailored lymphadenectomy is seen in many cancer centers, as it has been shown that only patients with intermediate or high risk endometrial cancer benefit from pelvic and paraaortic lymphadenectomy [5, 6].
Review
Role of MRI in the diagnostic work-up of endometrial cancer
Internationally, the practice of preoperative MRI evaluation of patients with endometrial cancer differs widely. According to the American College of Radiology (ACR) appropriateness criteria "MRI should be the preferred imaging modality for treatment planning, when available", as it allows best overall assessment of the disease [7]. The National Comprehensive Cancer Network (NCCN) guidelines advise MRI when cervical invasion is suspected but also in pre-treatment evaluation of type II endometrial cancer [8]. The European Society of Urogenital Radiology guidelines recommend MRI in high and intermediate risk cancers, in suspected advanced disease and before lymph node sampling [9]. In 2015 a multidisciplinary European expert consensus meeting on endometrial cancer advised MR imaging in apparent stage I endometrial cancer to assess the depth of myometrial invasion, when tailored lymph node dissection is performed. However, alternatively, expert ultrasound (US) and/or intraoperative pathological exams are other options [5]. Patients can be divided into three risk categories based upon histopathological tumour type and grade and depth of myometrial invasion [10]. There is increasing evidence that when findings of staging MRI and hysteroscopic biopsy are combined, women at high risk of lymph node metastases can be identified preoperatively [10–13]. In one study this yielded an accuracy of 81 % and was superior to combined transvaginal sonography (TVS) and hysteroscopic biopsy [13]. Another central preoperative finding in MRI is cervical stromal invasion. This requires modification of the surgery technique including radical hysterectomy and pelvic and abdominal lymphadenectomy. Combined radiotherapy treatment is performed in most centers [5, 11]. MRI findings also contribute in triaging and guiding neoadjuvant therapy in advanced endometrial cancer in multidisciplinary consensus conferences [5, 11].
Indications
At our institution MRI indications to assess endometrial cancer include: histologically proven endometrial cancer with histologies or US findings suggesting intermediate or high risk, sonographically suspected endometrial cancer and vaginal stenosis (without access for biopsy), uterine cancer of unknown origin (endometrial versus endocervical), central pelvic mass likely malignant, rapidly enlarging uterus in postmenopausal age, and in advanced metastatic cancer spread and suspected uterine neoplasm in CT.
Imaging
Imaging technique
Measures undertaken to reduce bowel motion and thus improve image quality include fasting for at least 4 h before the exam, injection of antiperistaltic drugs (hyoscine butylbromide preferably intramuscularly or glucagon intramuscularly) before the exam, and tight wrapping of a belt around the pelvis and abdomen. Anxious patients are positioned with feet first. As a full bladder may cause artifacts and is barely tolerated by most patients, the bladder should be emptied at about 30 min or just before the exam.
A phase array coil is used for pelvic and abdominal imaging. Correct positioning of the coil with regard to pelvic anatomy is pivotal, especially when small FOV and fat saturation techniques are used. Fat saturation bands are applied to eliminate motion artifacts from the anterior abdominal wall (Fig.
1
).

A localizer in 3 planes provides anatomical details, particularly position and size of the uterus and serves for planning the diagnostic images. The key imaging sequence to assess the uterus is T2WI. Thus, 3 planes of T2WI will allow definition of size, location, extent, and morphology of endometrial cancer. This is best done by choosing a sagittal T2WI displaying the tumour within the uterine cavity or the dilated uterine cavity. Two additional planes parallel and perpendicular to the uterine cavity are then performed (Fig.
1
). In case of tumour extending to the cervix a complementary section perpendicular to the cervical canal should be included. This serves to assess cervical stromal extension, and is necessary in small tumour size or equivocal findings. If the tumour is unequivocally thinning the cervix already in the sagittal view, such a plane can be omitted. Transaxial T1WI facilitate depiction of pelvic lymph nodes and assist in defining the quality of fluid filled distension of the uterine cavity and the morphology, particularly of hemorrhagic tumour components. Our routine protocol always includes DWI of the pelvis, as this technique is fast and will render valuable information for tumour detection, differentiation of tumour from benign lesions and will alert to pelvic lymph nodes as well as tumour spread beyond the uterus. The sequence should be acquired in the identical angulation as T2WI (Fig.
2
). Some authors advise DWI in 2 planes, as these will allow both complete coverage of the tumour and the pelvis including the pelvic lymph node status [
14
]. Lymph nodes can easily be detected on DWI but the DWI/ADC can't distinguish between benign and malignant lymph nodes, additional morphologic criteria are needed for this differentiation. The value of Gd T1WI is problem solving in equivocal findings of tumour spread, typically of the depth of myometrial invasion and of presence of cervical invasion. If the study is performed under radiologist supervision and if based on the basic sequences T2WI and DWI tumour extension can be unequivocally defined additional GdT1WI is not necessary. Otherwise, dynamic contrast enhancement sequences are performed to improve the conspicuity of tumour extension and presence of metastases. Gadolinium improves tumour –myometrium discrimination, with best contrast gained at about 120–180 s after intravenous (IV) contrast application (9) (Fig.
2
). Optimal cervical contrast may be acquired in a later phase with a delay of 4 min after IV contrast media [
15
]. Of note, in advanced peritoneal disease and ascites Gd T1WI should not be performed with a delay longer than 5 min as ascites may show delayed contrast uptake and thus peritoneal metastases may be obscured [
16
]. Retroperitoneal nodes, kidneys and liver should also be included in the staging exam. We perform transaxial DWI and Gd FS T1WI if contrast media were administered, otherwise T2STIR sequences. Technical details (3 T) of the staging protocol are summarized in Table
1
.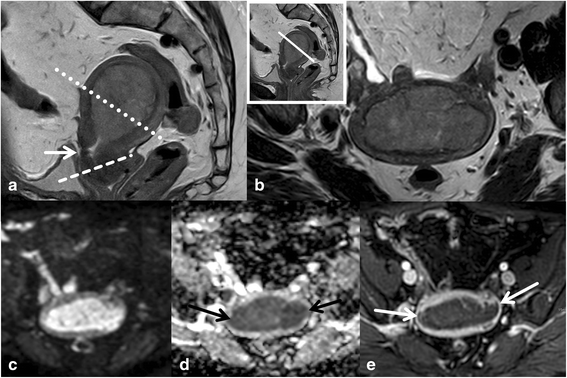 Table 1
MR protocol for evaluation of endometrial cancer
Pelvic series

Abdominal series

Sequence

Sagittal T2W

Oblique transaxial T2W

Oblique coronal T2W

Trans-axial T1W

Trans-axial DWI

Gd DCE 3D Ultrafast spoiled GE

Gd Dixon 3D FSPGR

T2 FS

DWI

Gd Dixon 3D FSPGR

Range

pelvis

pelvis

pelvis

pelvis

pelvis

pelvis

pelvis

abdomen

abdomen

abdomen

Sections

26

29

29

27

28

55/slab

150

46

38

150

TR

3100

3500

3500

540

3195

3

3,7

2177

4429

3,2

TE

100

90

90

10

63

1,42

1.36/2.4

75

59

1.15/2.1

Angulation/recon-struction

perp.a

parallel a

perpa

sagittal

transaxial

transaxial

Slice thickness (mm)

3,5

3

3

6

5

4

1.5

5

8

1,5

Gap (mm)

0,35

0,3

0,3

6

0,5

0,5

0,8

FOV (mm)

260

210

210

250

300

250

350

280

300

350

B values

0,800,1200

0,800,1200

phases

4: un-enhanced, at 1, 1.45 and 2.10 min

Matrix

580 × 260

280 × 261

280 × 261

276 × 257

100 × 98

168 × 167

236 × 158

252 × 168

116 × 124

236 × 158

Acquisition time (min)

3:36

3:30

3:30

2:16

3:28

15 s each

22 s

3:30

3:40

0:19
Conclusions
MRI is a potent imaging tool assisting to triage treatment in women with endometrial cancer based on multidisciplinary team consensus. The depth of myometrial invasion, cervical extension and lymph node metastases present major findings to analyse in the staging MRI. Thus, combined with the histological subtype MRI renders crucial information for pretreatment risk stratification. MRI assists in accurate treatment planning and selection of patients who will profit from paraaortic lymph node dissection. Radiologists have to be aware of the differences in imaging and clinical features of the two main types or endometrial cancer. Imaging technique can be optimized for endometrial cancer staging, and advanced techniques allow improved accuracy of local tumour spread. These may also alert to metastatic sites difficult to assess with conventional MRI.
Abbreviations
ACR:

American College of Radiology
ADC:

Apparent diffusion coefficient
CT:

Computed tomography
DCE:

Dynamic contrast enhanced imaging
DWI:

Diffusion weighted imaging
FIGO:

International Federation of Gynecology and Obstetrics
Gd:

Gadolinium
GE:

Gradient echo
IV:

Intravenous
MRI:

Magnetic resonance imaging
NCCN:

National Comprehensive Cancer Network
STIR:

Short tau inversion recovery
PET/CT:

Positron emission tomography–computed tomography
SI:

Signal intensity
T:

Tesla
TNM:

TNM Classification of Malignant Tumours
TVS:

Transvaginal sonography
US:

Ultrasound
WI:

Weighted imaging
Declarations
Open AccessThis article is distributed under the terms of the Creative Commons Attribution 4.0 International License (http://creativecommons.org/licenses/by/4.0/), which permits unrestricted use, distribution, and reproduction in any medium, provided you give appropriate credit to the original author(s) and the source, provide a link to the Creative Commons license, and indicate if changes were made. The Creative Commons Public Domain Dedication waiver (http://creativecommons.org/publicdomain/zero/1.0/) applies to the data made available in this article, unless otherwise stated.
Authors' Affiliations
(1)
Department of Radiology, Landeskliniken Salzburg, Paracelsus Medical University, Salzburg, Austria
Copyright
© Meissnitzer and Forstner. 2016